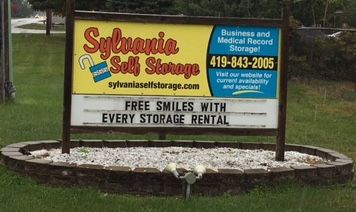 Sylvania Self Storage is the commercial storage facility of choice
We offer clean and secure storage units at competitive prices!
Almost every home and business has extra household items and business materials that you just don't have room for. Whether it's a couch, old business records, a recreational vehicle, or your grandmother's antiques, these items require space. Sylvania Self Storage has the commercial storage unit that will meet your needs and your budget. We have the most competitive rates for all your commercial storage and household storage needs!
Your items are secure in our in our state-of-the-art commercial storage facility. Our Sylvania Township location has a very low crime rate. The Sylvania Township police department has a reputation for their quick response times. Sylvania Self Storage has several unique security features:
The entire property is surrounded by a 6' high fence.
Individually assigned security codes to gain access.
All aisles are well-lit.
Security cameras record activity at the gate and main aisle of our commercial storage facility.
Call Sylvania Self Storage today and find out how we can help you with all of your commercial storage needs including household storage, business storage, and recreational vehicle storage. Our office is open Monday through Friday from 9 am to 5 pm. For more information on any of our units, call Mike at (419) 843-2005 or email us at sales@sylvaniaselfstorage.com.
I'd like to thank Mike Shadix and all the staff of Sylvania Storage for making my last experience with a self-storage provider remarkable.
After my house, just a few blocks down the road, on Deerpointe Drive was reposed by the bank, they made reasonable accommodations for me to store my belongings in a safe and clean facility while I figured out how to get back to NJ to rebuild my life. At the time, I had very little money and they allowed me to reserve the unit I needed till I could get together the rest of the funds.
In addition, they provided a monthly rate that was affordable for me which helped a lot in getting back to NJ faster. I felt compelled to provide this testimonial to acknowledge my appreciation for the service they provided.
Thank you Sylvania Storage!
- Lee W. H., Newark, NJ
I would like to share my thanks for all your support and help throughout my tough years. I've had locker(s) at Sylvania Self Storage for 8 years. Life and the economy forced different space needs. You had the space to assist and graciously helped by offering time and tools when moving. The rates were fair, competitive, and with minimal increases.
The grounds were always kept clean and organized. I've been to many storage unit facilities and this one is by far the best. This includes roof, paint, roads, and overall appearance. You even made lock upgrades to protect my belongings.
I am glad to be moving on with my life, but sad that this move means an end to my stay at Sylvania Self Storage. Always appreciated the times we talked and your attitude to assist me in anyway you could."
Thanks,
- Jeff A.